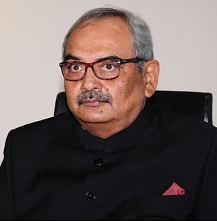 Shri Rajiv Mehrishi
Comptroller and Auditor General of India
Mr. Rajiv Mehrishi assumed office as the Comptroller and Auditor General of India on 25 September 2017. As a constitutional functionary, he is primarily entrusted with the responsibility to audit the accounts and related activities of the three tiers of Government – Federal, Provincial and Local; the State owned public sector commercial enterprises; and autonomous bodies financed by the Federal and Provincial Governments. His reports are laid before the Parliament and Legislatures of the Provinces.
Mr. Mehrishi is Member of the United Nations Board of Auditors and is the Vice-Chair of United Nations Panel of External Auditors. He plays an important role in the affairs of International Organization of Supreme Audit Institutions as the Chair of the Knowledge Sharing and Knowledge Services Committee, Chair of the Working Group on Information Technology Audit, Chair of the Compliance Audit Subcommittee and as a member of its Governing Board. His other international responsibilities include being a member of the Governing Board of Asian Organization of Supreme Audit Institutions and as Chair of the Board of Editors of its journal.
Mr. Mehrishi has rich and diverse public service experience of nearly four decades at senior positions in finance, administration and public policy. His immediate previous position was as Home Secretary in the Government of India. Prior to that, he held key positions as the Finance Secretary, Secretary (Fertilizers) and Secretary (Overseas Indian Affairs) of the Government of India. He has also held important positions in the Provincial Government of Rajasthan as the Chief Secretary, Principal Secretary (Finance), Chairman of Indira Gandhi Nahar Board and District Magistrate and Collector of Bikaner. He had also worked in the Ministry of Agriculture, the Cabinet Secretariat and the President's Secretariat.
With his vast experience in public service, Mr. Mehrishi possesses a perceptive insight into the governance process in the public sector. He has been instrumental in promoting and implementing innovative practices in various departments in the Government at both Federal and Provincial level.
Mr. Mehrishi holds a degree in business administration from Strathclyde Business School, Glasgow. His earlier degrees of B.A. (History) and M.A. (History) were from St. Stephen's College, New Delhi.
Mr. Mehrishi is fond of reading and writing. He has authored a book titled "India 2017 Yearbook" on current affairs in India. He is also an avid golfer, a bridge player and an amateur chef.
Mr. Mehrishi is married to Ms. Mira Mehrishi, a retired senior civil servant. He has three sons, who are all married.