From the International Desk
The International role of the Supreme Audit Institution of India extends to following areas:
• Association with INTOSAI
• Association with ASOSAI
• Participation in Global Audit Leadership Forum(GALF) & other international multilateral bodies
• Bilateral relations with other SAIs
• Audits of International Organizations
The CAG of India occupies several important positions in INTOSAI and ASOSAI. The prominent ones among these are Chair of INTOSAI Committee on Knowledge Sharing and Knowledge Services (KSC), Chair of the INTOSAI Working Group on IT Audit (WGITA) and member of ASOSAI Governing Board. A Forum for INTOSAI's Professional Pronouncements (FIPP) has been established by the INTOSAI Goal Chairs (i.e. PSC, CBC and KSC). The FIPP is chaired by Ms. K. Ganga, DAI (CRA) which has 15 other members from various SAIs. The SAI-India will also take over the responsibility of Chairmanship of the INTOSAI Compliance Audit Subcommittee (CAS) from SAI-Norway at the XXII INCOSAI scheduled to be held in December 2016 at Abu Dhabi, UAE.
CAG is a member of the UN Board of Auditors (Board) for the period July 2014 to June 2020. UK (Germany w.e.f July 2016) & Tanzania are the other members of the Board. As per the work allocation among the three members of the Board, India will be the lead auditor for audit of UN Secretariat [Volume I] and will also audit
UNICEF (United Nations Children's Fund)
UNOPS (United Nations Office for Project Services) 
UNJSPF (United Nations Joint Staff Pension Fund)
UNCC (United Nations Compensation Commission)
Escrow Account
UNFIP (United Nations Fund for International Partnerships (UNFIP)
ITC (International Trade Centre), and
6 UNPKO Missions
With the completion of audit cycle of 2015-16, CAG completed his term as external auditor of World Food Programme (WFP), International Organization for Migration (IOM) and International Atomic Energy Agency (IAEA). Handing over formalities of WFP to SAI France and IOM to SAI Ghana have been completed.  A delegation of SAI Indonesia headed by its Chairman will be visiting CAG on 4 and 5 August 2016 for the handing over process of IAEA.
Some of the recent major events involving active participation of SAI India were:
INTOSAI NEWS
1. 2nd meeting of the Common Forum for INTOSAI Framework of Professional Standards, Pretoria, 8-12 February 2016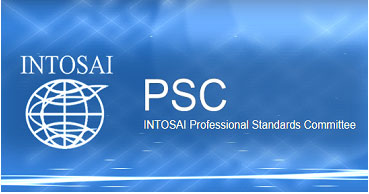 The 2nd meeting of the Common Forum of Technical Experts for the INTOSAI Framework of Professional Standards (CF) was held at Pretoria, South Africa on 8-12 February, 2016.
The Common Forum discussed proposed standards framework in depth. A tentative framework on the basis of discussion was proposed, which formed the basis of the paper submitted by the Common Forum to the three Goal Chairs in the PSC meeting held in May 2016.
The meeting was chaired by Ms. K. Ganga, SAI India. The next meeting of the Common Forum would be held at New Delhi, India in September, 2016.
2. Planning Meeting of Capacity Development Programme on Auditing Implementation of SDGs, Vienna, 15-16 March 2016
The INTOSAI Committee on Knowledge Sharing and Knowledge Services (KSC) chaired by the Comptroller and Auditor General of India and the INTOSAI Development Initiative (IDI) are cooperating in designing and delivering a comprehensive capacity development programme on Auditing implementation of Sustainable Development Goals (SDGs).
Accordingly, a planning meeting was organised by the IDI at Vienna, Austria on 15 and 16 March 2016 to finalize implementation strategy for the programme. The meeting was attended by representatives from INTOSAI General Secretariat, Capacity Building Committee (CBC), UN DESA, UN Women, European Court of Auditors, IDI, SAIs of Estonia, Indonesia, India, UAE and USA. During the planning meeting, it was decided that a Guide for the performance audit on preparedness will be prepared using a specific audit model. The Core team for developing the Guide will be from USA, UN-DESA, India, Brazil, Indonesia, South Africa, UAE and IDI. The Review team could comprise Estonia, ECA, Netherlands, New Zealand, Malaysia, UN-Women.
3. 25th Meeting of the INTOSAI Working Group on IT Audit (WGITA) and 8th Performance Auditing Seminar on IT Audit, Brasilia, 26 - 29 April 2016
The 25th meeting of the INTOSAI Working Group on IT Audit (WGITA) was held at Brasilia, Brazil from 26 to 27 April, 2016 in conjunction with the 8th Performance Auditing Seminar from 28 to 29 April, 2016. The meeting was presided over by Ms. Ajanta Dayalan, Deputy Comptroller & Auditor General.
The meeting was inaugurated by Mr. Ministro Aroldo Cedraz de Oliveira, President, Brazilian Court of Accounts. The 25th meeting was attended by the 55 delegates from 25 member countries.
The member SAIs presented their progress reports on the various projects and also presented country papers. The WGITA Work Plan 2017-2019 was finalized in the meeting and five projects were selected for WGITA Work Plan. It was decided to hold the 26th meeting of the INTOSAI Working Group on IT Audit in Seoul in April/May 2017.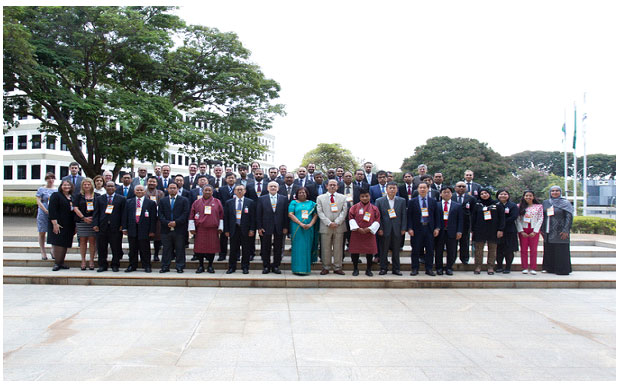 4. Financial Audit Sub Committee Meeting, Abu Dhabi, United Arab Emirates, 24-25 February 2016
A meeting of the INTOSAI Financial Audit Sub Committee (FAS) was held at Abu Dhabi, United Arab Emirates on the 24th and 25th February, 2016. SAI-India was represented by Ms. Tanuja S. Mittal, Principal Director of Commercial Audit. Delegates from 18 countries and from International Auditing and Assurance Standards Board (IAASB), AFROSAI-E, INTOSAI Development Initiative (IDI) and Performance Audit Subcommittee (PAS) participated in the meeting.
5. First in-person working level meeting of the Task Force on INTOSAI Statutes, Nanjing, China 21-23 March 2016
The first in-person working level meeting of the Task Force on INTOSAI Statues was attended by Ms. Atoorva Sinha, Director (International Relations) at Nanjing, China from 21 to 23 March, 2016. Matters relating to INTOSAI statues were discussed in-depth in the meeting. The next round of discussion will be held at Washington DC on 21st July, 2016.
6. Meetings of the 13th INTOSAI PSC Steering Committee and Goal Chairs, Copenhagen, Denmark, 25 -27 May 2016
Ms. K. Ganga, Deputy Comptroller and Auditor General (CRA) attended the 13th INTOSAI PSC Steering Committee on the sidelines of the meeting of the INTOSAI Goal Chairs held at Copenhagen from 25-27 May, 2016. Issues relating to review of ISSAIs, INTOSAI Statues, INTOSAI Strategic Plan 2017 to 2022 and Transition of chairmanship of the PSC were discussed in the Meeting.
ASOSAI NEWS
1. The 50th ASOSAI Governing Board Meeting, Chiang Mai, Thailand, 15-16 February 2016

The 50th ASOSAI Governing Board Meeting (GBM) was held in Chiang Mai, Thailand, on 15-16 February, 2016. Sixty four delegates from Governing Board and Audit Committee member SAIs, Observers, and other invited organizations, including Canadian Comprehensive Audit Foundation (CCAF~FCVI Inc.) and UN Women participated in the meeting and discussed key agendas of the ASOSAI.
This GBM, hosted by the Office of the Auditor General of Thailand, accepted and approved the reports on the ASOSAI financial statement for FY 2015, formulation of the multi-year budget plan for 2017-2019, capacity development activities, and the publication of the ASOSAI Journal.
Along with the aforementioned regular agenda, the GBM also discussed the issues of working on draft annual operational plans for the implementation of the ASOSAI Strategic Plan for 2016-2021 and preparation of a regional report for the 22th INCOSAI 2016:
The GBM also approved status of ex-officio membership to the editor of ASOSAI Journal, the SAI of India, to the extent of not taking up the existing share of elected members. The editor of ASOSAI Journal would be counted as the 12th GB member.
Further, Secretariat also made suggestions to improve the existing selection procedure for the Governing Board and the Audit Committee. The GB members also agreed to the suggestion of the EUROSAI to widen the participation scope in future ASOSAI-EUROSAI Joint Conferences to all members of both INTOSAI regional working groups. The 3rd ASOSAI-EUROSAI Joint Conference will be held in Kiev, Ukraine, in 2017.
The 51st GBM will be hosted by the Audit Board of the Republic of Indonesia on 13-14 February 2017, in Bali, Indonesia.
2. Preparatory Workshop on Regional Papers, Malaysia,27-29 April 2016
22nd INCOSAI to be held in Abu Dhabi, UAE in December 2016 will hold discussions on the basis of Regional papers and not on Country papers. Therefore, ASOSAI conducted a preparatory workshop for preparation of regional papers on "Sustainable Development Goals" and "Professionalization" in Malaysia from April 27-29, 2016. The role of preparation of regional papers were shared between SAI Malaysia, Chairman ASOSAI and SAI Korea, Secretariat ASOSAI. While SAI Malaysia took the lead for the preparation of paper on SDGs, SAI Korea led the group for the "Professionalization".Ms. Atoorva Sinha, Director (IR) attended the workshop on behalf of SAI India. The finalised papers will be forwarded to SAI UAE for placing it in the 22nd INCOSAI.
3. IDI-ASOSAI 3i Cooperative Audit Programme on Audit of Disaster Management, Malaysia, 11-15 April 2016
IDI-ASOSAI 3i Cooperative Audit Programme on Audit of Disaster Management was launched in ASOSAI region in cooperation with IDI.
An Audit Planning Meeting was held at the training facility of the National Audit Department of Malaysia in Nilai, Malaysia from April 11 to 15, 2016. Forty six participants from 16 ASOSAI member SAIs and three participants from one EUROSAI member SAI attended the meeting with technical guidance provided by six Mentors and one Subject Matter Expert (SME) from SAIs of Bhutan, China, Indonesia, Pakistan and Philippines, and one Project Manager from IDI.SAI India was represented by Mr. Hoveyda Abbas, AG (J&K).At the meeting, the audit plans were peer reviewed and reviewed by the Mentors and the SME. Audit of disaster management/ state disaster response fund in Jammu and Kashmir has been taken up under this programme.
Bilateral and Multilateral Relations
1. First Seminar of the SAIs of the Shanghai Cooperation Organisation, Nanjing, China, 19-21 April 2016
The first Seminar of the Supreme Audit Insitutions of the Member States, Observer States and Dialogue Partners of Shanghai Cooperation Organisation was conducted by CNAO, China on the theme " IT Application to Audit". 
The Seminar was held from 19-21 April 2016 at Nanjing, China and was attended by Mr. Manish Kumar III, Principal Director and Mr. Deepak Mathew, DAG. Presentation on the practice and experience on the IT Audit by SAI India was made during the seminar.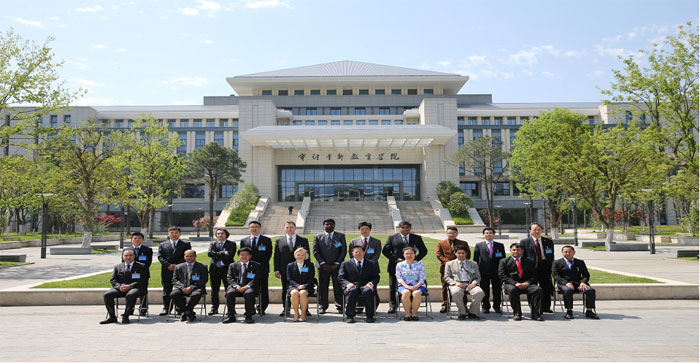 2. 7th Indo-China Young Auditors Forum, Chongqing, China, 10-20 May 2016
The 7th Indo-China Young Auditors forum was held in Chongqing, China from 10-20 May, 2016. This forum is organized every year alternatively in China and India under the aegis of MoU signed between the two SAIs with the objective to upgrade professional knowledge and skill among the young auditors of each state. The theme of this forum was "Quality Control in Audit Process" and "Audit Data Analytics". Ten member delegation headed by Mr. K.S. Ramuwalia, Sr. DAG participated in the Forum.
As part of this programme, the delegation also visited the National Audit Office, China at Beijing and called on Mr. Jiayi Liu, Auditor General of China.
3. Global Audit Leadership Forum (Formerly known as Global Working Group), Durnstein, Austria, 23-24 May 2016
The Global Audit Leadership Forum (GALF), a group of nineteen Auditors' General (including the Comptroller and Auditor General of India), meets annually for organised yet informal discussions on current and emerging issues of concern to their Governments and officers and to explore opportunities to share information and work closely. The 3rd GALF meeting was held at Durnstein, Austria from 23 to 24 May 2016. The main theme of the meeting was on "Audit for Sustainable Development: Preconditions for and impact of SAIs". The Comptroller and Auditor General of India was represented by Mr. Rakesh Jain, Deputy Comptroller and Auditor General (RC/LB) in the above meeting.
The next GALF meeting would be held at Copenhagen, Denmark from 17-19 May, 2017 on the themes (i) Monitoring the quality of Audit Reports and (ii) Strategic Planning.
4. First Meeting of BRICS SAI Leaders, Beijing, China, 24 June 2016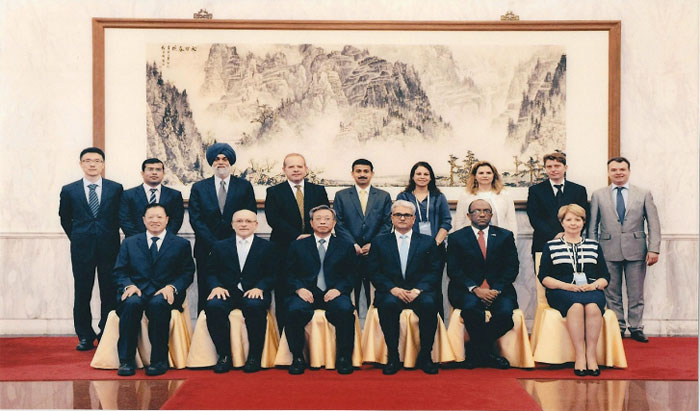 The first meeting of BRICS SAI leaders took place in Beijing on 24th June 2016. The meeting discussed areas of potential cooperation and collaboration in various fields of common interest with a view to providing value to their respective Governments in pushing forward economic and social development.
BRICS SAI leaders agreed to constitute a working-level group to further discuss and take forward the proposals of cooperation in specific fields. A memorandum of understanding on cooperation in field of public auditing will be also be signed by the BRICS SAIs at an appropriate time. It was also decided to take turns to hold the leaders meeting every two years.
At another function held in Nanjing on the sidelines of this meeting, CAG was conferred with Honorary Professorship of the National Audit University of China.
Audit of International Organisation
1. Working group on External Auditors Reporting Requirements in UN Setup, Geneva, 23-24 June 2016.
A Working Group on Reporting Requirements has been formed. Members of this group are India, United Kingdom, Canada, Switzerland, and Germany. Mr. K.S. Subramanian, Director General (Internal Relations) is the Chair of this Working Group.
Objective of this Working Group is to examine ISA 700 (Revised) and new ISA 701 and report to UN Technical Group and Panel of External Auditors in November 2016 regarding its applicability and effect on the present External Auditor's reporting requirements in the UN set up. In this context, DG (IR) made a presentation on the new reporting requirements at the Finance and Budget Network (FBN) meeting held on 23rd and 24 June 2016 at Geneva.
Other Activities
1. Visit of President of European Court of Auditors (ECA) to SAI India, 6-11 February 2016
President of European Court of Auditors (ECA) Mr. Vitor Caldeira alongwith Mr. Geoffrey Simpson, Director of Presidency, ECA visited India from 6th to 11th February, 2016. The President of ECA met the Comptroller & Auditor General of India Mr. Shashi Kant Sharma and discussed relationship between the KSC and PSC (which he will be co-chairing from 2016 INCOSAI) and the common forum. SAI India's approach to Big data and also the facilities and courses offered at the International Centre for Environment Audit and Sustainable Development, Jaipur (iCED) was also discussed in the meeting.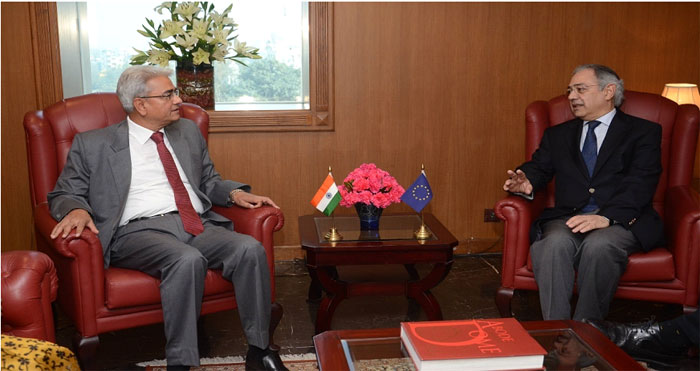 During the visit the ECA delegation also visited India's International Centre for Environmental Audit and Sustainable Development (iCED), Jaipur and Office of Auditor General of Goa.
2. Visit of members of Public Accounts Committee of Bhutan, 18 May 2016
A delegation of the Public Accounts Committee of the Bhutan, which is a joint committee of Bhutanese National Assembly and National Council, headed by Hon'ble Pema Dakpa, Chairperson PAC called on CAG on 18th May 2016 as part of their study visit to Parliament of India.