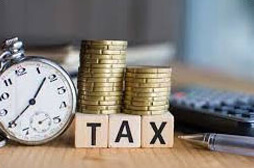 Direct Tax
Report No. 4 of 2009-10 - Compliance Audit on Direct Taxes-Union Government
Date on which Report Tabled:
Fri 23 Apr, 2010
Date of sending the report to Government
Government Type
Union
Union Department
Direct Tax
Overview
Direct taxes collections increased from Rs. 2,30,181 crore in 2006-07 to Rs. 3,33,818 crore in 2008-09 at an average annual rate of growth of 27.3 per cent. Global recession and economic slowdown in 2008-09 had an impact on actual collections which were lower (by 8.5 per cent) than the budget estimates.Tax-Gross Domestic Product [GDP] ratio in 2008-09 also reduced from 6.6 per cent in 2007-08 to 6.3 per cent in 2008-09. For every unit growth in GDP, direct taxes grew by 0.6 per cent only in 2008-09 reversing the trend of buoyancy in excess of one in earlier years. The deceleration in tax collection was thus sharper than that of GDP.
The taxpayer base grew over the last five years from 271.8 lakh taxpayers in 2004-05 to 326.5 lakh taxpayers in 2008-09. However, in 2008-09, the total number of direct tax assessees declined by 3.0 per cent as compared to an increase by 7.6 per cent in 2007-08. The decline was sharper among corporate assessees. Inability to retain the existing tax base was a matter of concern.84 per cent of gross collections in 2008-09 were by way of voluntary compliance by assessees (pre-assessment stage], moving towards international principles of tax administration. 65 per cent of the demand raised in the year was collected in 2008-09, registering a decline from 74 per cent achieved in 2007-08.
The department achieved greater efficiency in completion of scrutiny assessment cases, bringing down pendency from 54 per cent in 2006-07 to 44 per cent in 2008-09.Cost of collection rose from 0.6 per cent in 2007-08 to 0.7 per cent in 2008-09 because of deceleration in tax collection and increase in establishment cost.84 per cent of the targeted audits were completed by Internal Audit. Mistakes detected in the assessments previously checked in Internal Audit indicate a need for improvement in the quality of Internal Audit. Departmental response to Internal Audit was clearly inadequate.
Download Audit Report