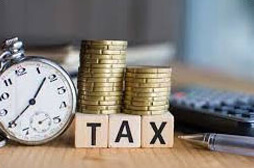 Direct Tax
Report No. 36 of 2010-11 - Performance Audit of Taxation of assessees engaged in the Film and Television Industry
Date on which Report Tabled:
Fri 25 Mar, 2011
Date of sending the report to Government
Government Type
Union
Union Department
Direct Tax
Overview
India, producing more than 1,000 feature films per year, is the largest film producing country in the world. During the period 2005-2009, film production registered a growth of 5 per cent per annum. The film industry registered growth of 9.7 per cent during the period 2005-2009 and generated revenues of around RS 9,500 crore in 2009. The television (TV) industry grew at 16.9 per cent per annum during the period 2005-2009 generating revenue of RS 26,550 crore in 2009. By the end of December 2009, there were 12.9 crore TV households with 8.9 crore subscribers to pay channels. Number of approved private channels at the end of December 2009 were 515 - 251 news channels and 264 other than news channels. The Film & TV industry is expected to grow at 16.5 per cent per annum in next five years to reach RS 65,850 crore by 2014.
Production of films is financed mainly from private sources. Banks started financing the films after 'industry' status was accorded to the film industry in May 1998. In addition NFDC and film development corporations promoted by many states' governments also provide financial support in the form of loan, grant, subsidy, etc.
The main objectives of our study were to ascertain that: the Department had broadened its tax base vis-a-vis film related personalities to increase tax collection commensurate with the growth of the industry; systems and procedures were sufficient and in place to ensure compliance with the provisions of the Act/Rules; mandatory information as required under the provisions of the Act as due from the assessees related to the film and TV sector were being received regularly in time; there was a system to utilize the information for assessment, available with the Department in Income Tax Returns of film/TV related assessees and in mandatory statements filed by the producers; there was a proper co-ordination between the Department and outside agencies for gathering information to detect undisclosed or incorrect information; the Department had taken action on the recommendations of the Public Accounts Committee (PAC).
Download Audit Report